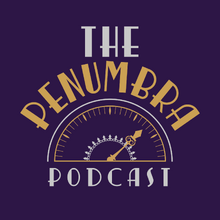 The Penumbra Podcast is an audio-drama podcast, created by Sophie Kaner and Kevin Vibert. Each episode takes the form of a 30-50 minute radio play.
Although the podcast initially started out as an anthology series based off of The Twilight Zone, it began to follow the story of Juno Steel and started developing a continuous storyline. It now explores both the Juno Steel series and the world of the Second Citadel.
Overview
[
]
The Penumbra is all about stories you recognize told in ways you won't expect. Your femme fatale might be an homme fatale; you might find that not every haunting needs a ghost. Your criminal underworld might advertise on billboards ten miles tall, and when push comes to shove your home might have a bit more heart than you're comfortable with. It's never just a heist, a Western, an adventure. It's the parts we think are still fresh about those genres — along with what we find along the tracks.
And what will we find, you ask? Well… see for yourself.[1]
History
[
]
The Penumbra Podcast was created by Sophie Kaner and Kevin Vibert in October 2015.
Originally, Sophie and Kevin intended to model the podcast closely after The Twilight Zone, with an anthology approach to the episodes. However, they soon realized that the Junoverse was going to be a long-term arc, and stopped making one-shots.[2]
Add more history here
Stories
[
]
Series
[
]
Stories on the Penumbra Podcast that follow a continuous narrative and have been featured in more than one canon episode.
One-Shots
[
]
Stories that have been featured on the Penumbra Podcast for only one canon episode.
Bonus Episodes
[
]
Bonus episodes that may or not be related to a storyline or one-shot. Unless otherwise marked, these bonus episodes are usually non-canon.
Trivia
[
]
References
[
]